Meet the Coaches
COACH MATT HANSON
Professional Triathlete and Certified Triathlon, Running, and Cycling Coach
Certifications
ITCA Triathlon Coaching certification
ATC, Certified Athletic Trainer
Dr. Matt Hanson races as a professional triathlete and coaches triathletes, cyclists and runners.  Matt has an extensive background as an athlete and is highly-educated in all things sports-related.  He has worked as an Athletic Trainer and Human Performance Program Director at a Division  3 University and taught classes in Sports' Nutrition, Physiological Principles of Conditioning, and Exercise Physiology. Matt's background and training record make coaching a natural fit for him. Matt has been coaching since 2013 and has helped triathletes reach their goals at each of the different triathlon distances.  He has also coached runners, swimmers, and cyclists to bring out their single sport potential.
As an athlete, Matt comes from a running background. In his first year as a pro, Matt set 3 course run records and was the 2014 Ironman Chattanooga champion. In 2015, he was crowned North American Champion with his win at Ironman Texas where he set the overall course record. He is committed to winning at the highest levels in the sport as well as coaching athletes to reach their performance and health related goals. You can follow his athletic journey at www.matthansontri.com.
COACH LIZ BAUGHER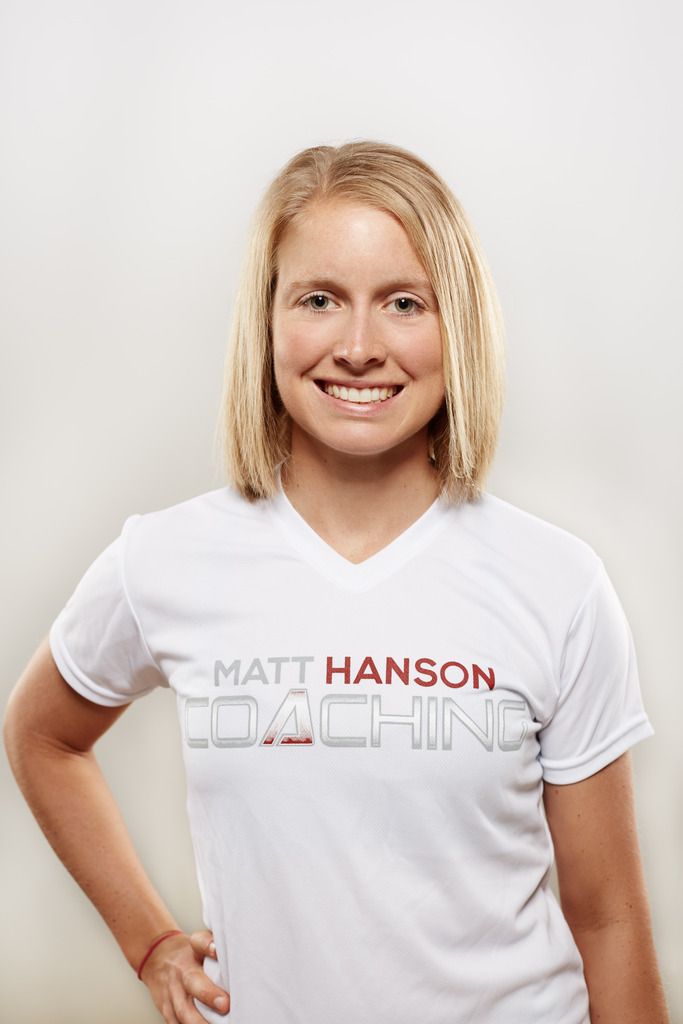 Professional Triathlete and Certified Triathlon, Running, and Cycling Coach, Retul Certified
Email: Liz@matthansoncoaching.com
Website: www.lizbtriathlete.com
Certifications:
USAT L1 Triathlon Coach
Retul
ACE Personal Training
USA Swimming
USA Cycling
Liz grew up playing soccer, swimming and running. Her love for endurance sports brought her into the triathlon world and she has been coaching triathlon for 5+ years now.
Liz has coached a wide range of athletes ranging from single sport swimmers and runners, to elite level triathletes. In addition to triathletes, Liz has spent a year coaching with local para-athletes as well as the Texas A&M triathlon team which went onto a top 3 National title in 2015. Liz is USAT L1 certified, RETUL certified, ACE PT, USASwimming and USACycling certified, and offers both 1v1 sessions as well as personal multisport or single sport training. 
Coach Caitlin Standifer
Professional Triathlete and Triathlon, Running, and Cycling Coach
Email: caitlin@matthansoncoaching.com
Website: http://www.caitlinstandifer.com/ 
Certifications: USATF Running
Caitlin is a professional triathlete based out of Boulder, Colorado with great experience working with triathletes and runners of all ages. A life-long runner and a Division I cross country and track athlete, Caitlin brings a host of training ideas, knowledge, and experience to the team. As a USATF certified run coach also with a past in personal training, Caitlin has coached all ages and abilities from middle and high school cross country teams to age-group and elite triathletes to develop their running, swimming, and cycling ability and speed through purposeful workouts and training methods.
Coach Ashley Williams
Email: ashley@matthansontri.com
Certifications:
USAT Level 1
USTF Level 1 
Strength and Conditioning Fly solo
UEFA B License (Level 4 soccer)
Ashley grew up playing and coaching professional soccer in Great Britain, before moving to the United States. His love for running brought him into the triathlon world and has starting coaching. 
Ashley has worked with a number of athletes from the National Disability Soccer team to professional soccer players. He has a degree in sport and exercise science working with cyclists through Vo2 max testing and developing the coaching athlete relationship with is ongoing Masters. 
Coach Guilherme Muglia Campos
Email: guilherme@matthansoncoaching.com 
Certifications: ITU Level 1
Guilherme "Gui" Muglia Campos, a Brazilian-Italian double citizen, recently became a permanent resident in the United States of America. He spent many summers overseas training and learning new cultures and languages. He speaks Portuguese, Italian and English fluently and can handle the basics of Spanish and French.
From a very young age Gui has always played sports with a competitive focus. With his educational background and unique experiences inside this sport he is able to help other athletes achieve their racing goals and fulfill their experiences. He is a big believer in communication and feedback, that they are key for performance in such a complex sport that involves 3 different disciplines.